The Holiday Menu: Can it ever be Healthy?
December 14, 2012
It's that time of the year again…Christmas! It's amazing how fast 2012 flew by. Along with the beautiful white snow, holiday events in the city and the Christmas music and carolers, we often associate this time of the year with succulent turkey and stuffing, creamy mash potatoes, rich butternut squash soup and all the fixings that come along with a Christmas dinner. Then, once dinner is over, lets not deny that we love to indulge in those little chocolates, cookies, a glass of our favourite brandy and perhaps even some eggnog or hot chocolate by the fireplace. The entire feel of Christmas is warm, cozy and nostalgic. The part that is cold, ugly and depressing is the aftermath…am I right?
January rolls around and we get on the scale only to realize that we have gained 8 pounds over the holiday season! That's when we start signing gym memberships, get a neighbourhood running team together or even pop in those dusty aerobic DVD's at home, all of which only last a few weeks.
Why should we feel guilty over indulging in some of the treats that we love so much over the holidays? After all, eating is a social activity and what better to sit around a table of people you love, great food and laughs. We can do all of that and be healthy about it in the meantime but many of us just might not know how to.
As we get ready for the holidays, here are some recipes and tips on how to prepare a delicious and nutritious holiday menu and curb the feeling of guilt when the New Year rolls in.
Appetizers
Goat Cheese and Roasted Red Pepper Crostini
Ingredients: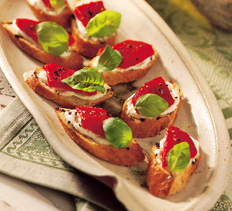 1 clove of garlic
20 slices of whole wheat french baguette
35g of goat cheese
¼ cup of pesto sauce
20 pieces of roasted red pepper
20 pieces of fresh basil
Directions:
Slice garlic in half and rub each slice of bread with garlic. Toast bread in a 350C oven for 10 minutes.  Remove slices, spread a teaspoon of goat cheese, ½ teaspoon of pesto and one slice of roasted red pepper. Add fresh basil to each crostini. Serve and enjoy.
HEALTH TIP:  Did you know that Red Peppers are packed with Vitamin C. One Red Pepper has 216 mg of Vitamin C. Considering women need 75mg/day and men need 90mg/day, a Red Pepper has more than our daily requirement!
Warm Spinach Dip
Ingredients:
1 package of frozen of fresh spinach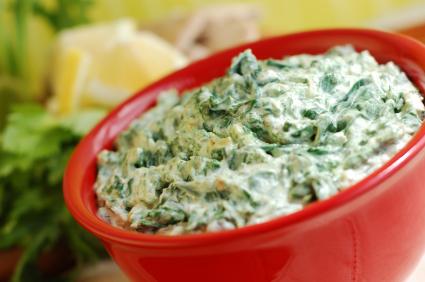 ½ cup of low fat sour cream
1 cup of low fat plain yogurt
½ cup of shredded mozzarella
1 teaspoon of mustard
½ teaspoon of garlic powder or 1 fresh clove of garlic
½ teaspoon of black pepper
Directions:
Mix all ingredients in a bowl. Pour into a dish and bake in a 350C oven for 20-30 minutes or until dip is bubbling. Serve with whole grain breads and crackers.
HEALTH TIP: Spinach is one of those 'Green Leafy' vegetables that are rich in Iron, Calcium and Folic Acid. In our opinion, it is truly a 'Power Food.' By incorporating spinach into our diet, we can help protect ourselves from cancer and cardiovascular disease, while helping to strengthen our bones. Also, be sure to see our blog post about iron and spinach here.
Butternut Squash Soup

Ingredients:
1 large butternut squash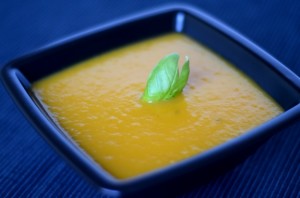 1 large white onion, sliced
2 cloves of garlic
½ cup of white wine
8 cups of low sodium vegetable broth
3 springs of thyme
3 pieces of sage
½ teaspoon of black pepper
Directions:
Bake the butternut squash in a 400C oven for 30 minutes. Once the squash has cooled peel, remove seeds cut into chunks.  In a large pot, sauté onions and garlic for a few minutes.  Add butternut squash, white wine, broth, thyme, sage, and black pepper.  Let soup come to a boil and reduce to a simmer for 30 minutes.  Remove springs of thyme and sage. Remove pot from stove and puree with a blender.
HEALTH TIP:  Low in fat, Butternut Squash delivers an ample dose of dietary fiber, Vitamin A and Potassium making it an exceptionally heart healthy choice, as well as a benefit to your bones. And who says Butternut Squash Soup has to be unhealthy? Skip the cream and no one can tell the difference!
Cocktails
Crantini
Ingredients:
Ice Cubes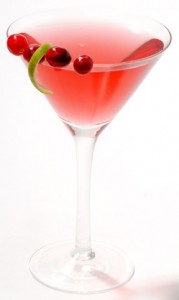 1 cup of vodka
¼ cup of dry vermouth
½ cup of cranberry juice
8 frozen cranberries
4 lemon zest twists
Directions:
Put 4 martini glasses in the freezer to chill for at least 30 minutes.  Just before serving, fill a cocktail shaker half full with ice. Pour in the vodka, vermouth and cranberry juice. Cover with the lid and shake vigorously up and down for about 10 seconds. Strain into the chilled glasses, dividing evenly. Garnish each glass with 2 frozen cranberries and a lemon twist. Serve immediately.
HEALTH TIP: So alcohol is not always the healthiest choice for a beverage but let's face it, it's the holiday season and a drink or two won't hurt most healthy individuals. In fact, the Heart & Stroke Foundation says that 2 drinks per day to a weekly maximum of 10 for women and 3 drinks per day to a weekly maximum of 15 for men is considered safe. Plus when you take into consideration the cream that is in the common types of drinks many people have during the holidays, Crantini's are not so bad!
Main
Herb Turkey
Ingredients:
1 fresh 16lbs turkey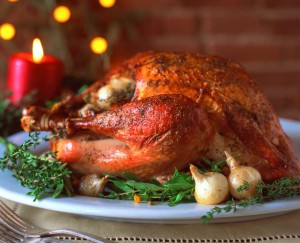 Salt and Pepper to taste
Mixed turkey herbs (Sage, thyme, marjoram and any other herbs that are personal favourite)
1 bay leaf
2 tbsp of butter
4tbsp of margarine
¾ cup of low sodium vegetable or chicken stock
½ cup of your favourite white wine
Directions:
Let the turkey stand at room temperature for 1 hour. Position a rack in the lower third of an oven and preheat to 325ºF. Remove the giblets and neck, if included, and reserve for making gravy, if desired. Rinse the turkey inside and out with cold water and pat dry with paper towels. Trim off and discard excess fat. Season the turkey inside and out with salt and pepper, and place 2 Tbs. of the herbs and the bay leaf inside the body cavity. If desired, truss the turkey with kitchen twine. Spread 2 Tbs. of the butter over the turkey breast and evenly coat the outside of the turkey with the remaining 2 Tbs. herbs. Place the turkey on a rack in a large roasting pan. Fold a 3-foot square piece of cheesecloth into quarters, dampen with water and drape it over the breast, leaving the drumsticks exposed. Transfer to the oven. In a small saucepan over medium heat, melt 4tbsp of margarine with the stock and wine. After 30 minutes of roasting, begin basting the turkey with the margarine mixture through the cheesecloth. Continue roasting, basting every 20 minutes, for 1 1/2 hours more. Then baste every 30 minutes with the butter mixture and the pan juices until an instant-read thermometer inserted into the thickest part of the breast, away from the bone, registers 165ºF, and inserted into the thigh registers 175ºF, about 1 1/2 hours more. If the breast begins to cook too quickly, tent it loosely with aluminum foil. Total roasting time should be about 3 1/2 hours. Transfer the turkey to a warmed platter, cover loosely with aluminum foil and let rest for about 20 minutes before carving.
HEALTH TIP: When it comes to the main dish, skip the read meats like meat loaf, lamb or roast. Choose lean meats like chicken, turkey or fish. By doing so, you are reducing the amount of saturated fats that you consume at your holiday table.
Side Dishes
Oven Roasted Vegetables
Ingredients:
3 Carrots, chopped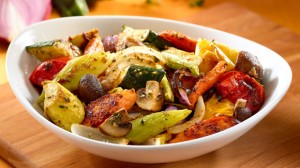 3 Portebello mushrooms, chopped
2 Zuchinni, chopped
1 Large eggplant, chopped
2 cups cauliflower, chopped
2 beets, chopped
3 tbsp of olive oil
1 clove of garlic, crushed
½ tsp of black pepper
¼ cup of balsamic vinegar
1 tsp of no-salt seasoning
Directions:
Chop all vegetables and place into large mixing bowl. Add olive oil, garlic, black pepper, balsamic vinegar and no salt seasoning.  Mix all ingredients until all vegetables are evenly coated. Place in a pre-heated 400C oven for 20-30 minutes or until desired texture is achieved.
HEALTH TIP: There are several ways of cooking vegetables but make it simple. Skip on the vegetable casseroles that include canned creamy soups used to thicken the dish. This way you save yourselves the calories, fat and especially sodium  with the recipe above.
Smashed Potatoes
Ingredients:
8 large red potatoes,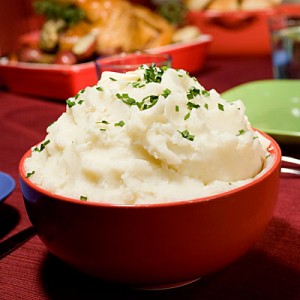 1 tbsp of margarine
¼ cup of skim milk
1 clove of garlic
½ tsp black pepper
½ tsp of no-salt seasoning
2 tbsp of chopped chives (optional)
Directions:
Chop potatoes (leaving skin on) and place in a large pot. Cover potatoes with water and place on stove top.  Allow potatoes to come to a boil and simmer until they are soft enough to mash.  Drain water, allowing potatoes to sit in pot.  Then add margarine, milk, garlic, black pepper and no salt seasoning. Using a potato masher, mash potatoes until nice and creamy. Top with chives.
HEALTH TIP: Potatoes are a favorite around the holidays. Remember that mashed potatoes don't have to be unhealthy. Skip on the cream and butter and save yourselves and others the saturated fat. Another way of making your potatoes extra creamy without the added fat and calories is by using low fat yogurt.
Dessert
Tiramisu
Ingredients:
1/2 cup nonfat ricotta cheese, (4 ounces)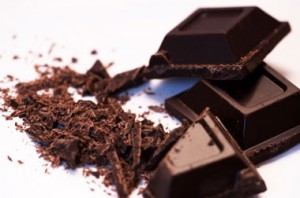 2 tbsp confectioners' sugar
1/2 tsp vanilla extract
1/8 tsp ground cinnamon
12 ladyfingers, (about 1 3/4 ounces)
4 tbsp brewed espresso, or strong coffee
2 tablespoons dark chocolate chips, melted
Directions:
Combine ricotta, sugar, vanilla and cinnamon in a medium bowl.  Place 6 ladyfingers in a 9-by-5-inch (or similar size) loaf pan. Drizzle with 2 tablespoons espresso (or coffee). Spread the ricotta mixture over the ladyfingers. Place another layer of ladyfingers over the ricotta and drizzle with the remaining 2 tablespoons espresso (or coffee). Drizzle with melted chocolate. Refrigerate until the chocolate is set, about 30 minutes.
HEALTH TIP: Dark Chocolate is rich in antioxidants which can be beneficial for heart health and protect against cancer. When choosing chocolate for your dessert, skip on the milk chocolate and go for the dark. But remember; Everything in moderation!
Take Home Message
Remember, there are ways to reduce the calorie, fat and sodium content in our meals with easy substitutions.  Don't wait until after the holidays to start eating healthy, as you can see the above holiday menu is packed with nutrients, and is low in fat and sodium.  Also, don't forget to be choose and watch your portions mindfully.  When piling on the food your plate should like this: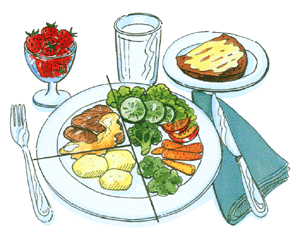 We at MyDiet Clinic Wish you all a safe, happy and Healthy Christmas, New Years and holiday season.
Enjoy!