Nutrigenomix Testing

What is Nutrigenomics?
Nutrigenomics is a new scientific discipline that uses modern genomics technology to study the relationship between genes, nutrition and health. It has long been apparent that some people respond differently from others to certain foods. For example, individuals with lactose intolerance experience gastrointestinal discomfort after consuming certain dairy products, while other individuals can consume dairy with no problems. Nutrigenomics allows us to understand how our genes affect the way we respond to the foods, beverages and supplements we consume.

Who is Nutrigenomix Inc.
Nutrigenomix Inc. is a University of Toronto startup biotechnology company that is dedicated to empowering registered dietitians and their clients with comprehensive, reliable, genomic information with the ultimate goal of improving health through personalized nutrition. The Nutrigenomix® test kit enables us to counsel our clients according to their unique genetic profile. The service includes the genetic test kits, genotyping and customized reports based on cutting-edge research and stringent standards of scientific evidence. Nutrigenomix Inc. began offering their services to a limited number of clinics across Canada starting March 1, 2012, and had their nationwide launch at the Dietitians of Canada's annual conference at the Sheraton Centre in Toronto, June 14, 2012. The international launch of Nutrigenomix was on September 7, 2012 at the International Congress of Dietetics in Sydney Australia where they were official sponsors. Nutrigenomix launched to dietitians in the US on October 6, 2012, at the Food & Nutrition Conference & Expo in Philadelphia with a launch to the US public November 1, 2012.
Click Here to read more about the International Science Advisory Board for Nutrigenomix Inc.
What We Do
Dietary consultation is a service that we all may require or just desire at some point of our lives, but too often the advice given is generic (based on Health Canada and Canada's Food Guide).
A common saying is that our genes load the gun, but it is our lifestyle choices that pull the trigger. If we knew that our genetics played a significant role in how we respond to the foods we eat, wouldn't this genetic information be crucial to provide the most effective nutritional advice? Well, thanks to the advancement in Nutritional Sciences, we now know that our genes play an important role in how our nutrition affects our health.
At MyDiet Clinic we provide personalized dietary consultations by incorporating the science of nutrigenomics and using key genetic information to define how you respond to your diet and understand what changes you could make to improve your overall long-term health. With a team that has both research and clinical experience, we are able to provide you with the most effective dietary consultation service possible.
How We Do It 
Using a saliva sample, the Nutrigenomix Test helps us optimize your diet to your genes in order to reduce your risk of certain health conditions and diseases. Each gene tested is significantly involved in the way your body processes or metabolizes a certain nutrient or dietary component. With that information, we know which foods and nutrients your body needs more – or less – of to prevent chronic diseases such as cancer, heart disease, stroke and type 2 diabetes.
The Nutrigenomix

™

Test

NGx – Health Test – 45 Genes:

For a Sample Report, Click
Here
NGx – Sport Test (Same Genes as Health Test – Report Customized for Athletes):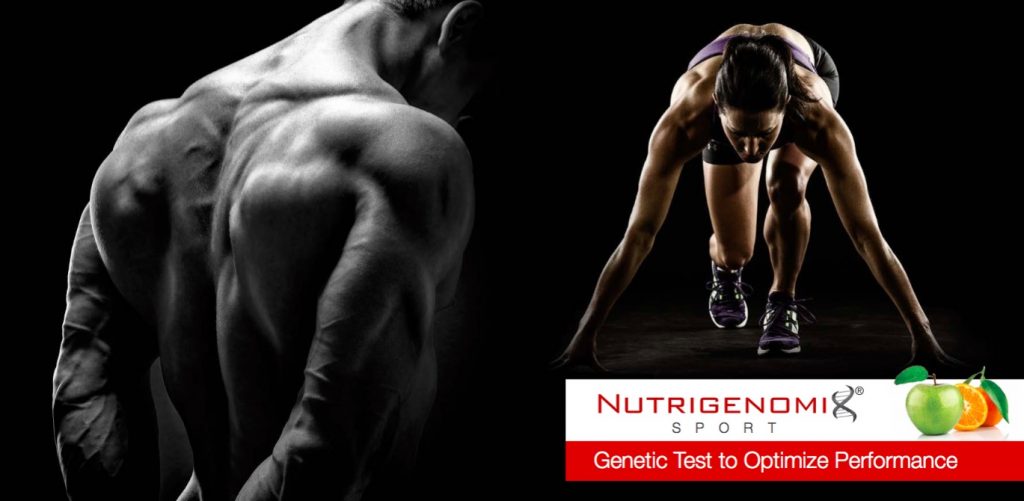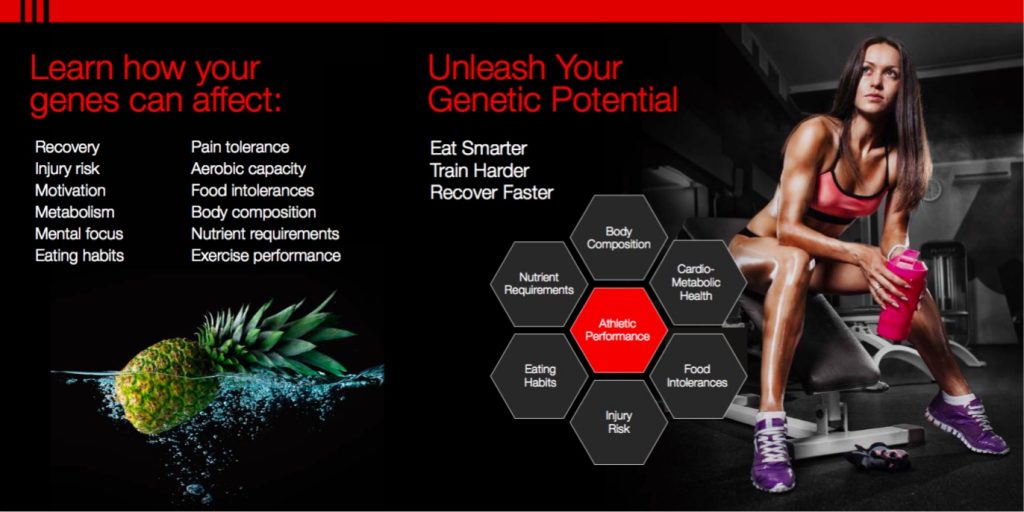 Download Nutrigenomix® Sport Brochure (PDF 402 KB)
For a Sample Report, Click Here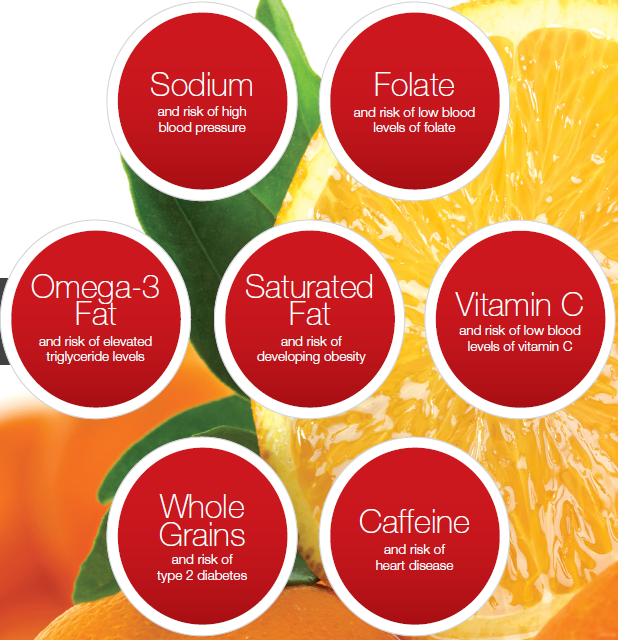 Find Out If Your Body Needs More Of:
Vitamin C

: in order to reduce the risk of cancer, stroke, heart disease & diabetes

Folate

:  in order to reduce the risk of heart disease, stroke and birth defects

Whole Grains

: in order to reduce the risk of type 2 diabetes

Omega 3 Fat

: in order to reduce the risk of high triglyceride levels & heart disease
Find Out Your Personal Limit For:
Saturated Fats

: in order to reduce the risk of obesity/high BMI

Sodium

: in order to reduce the risk of high blood pressure, chronic hypertension and heart attack

Caffeine

: in order to reduce the risk of high blood pressure and heart attack
NGx – Gluten™ Test (Already Included in Health & Sport Test):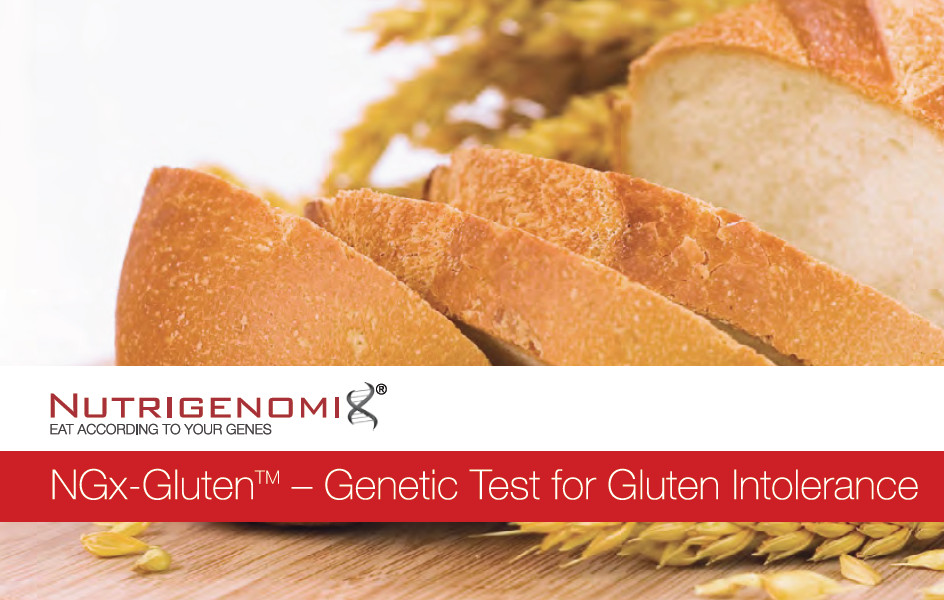 Is a gluten-free diet right for you?
Gluten is a protein found in many common grains like wheat, barley, rye, spelt, kamut, bulgur and couscous, as well as, products made from these grains. Whole grains can be part of a healthy diet but for some, gluten can cause severe digestive issues leading to damage of the intestinal tract, nutrient malabsorption, anemia, bone disease, eczema, psoriasis and several autoimmune diseases as a consequence of gluten intolerance.
Celiac disease is the most serious form of gluten intolerance which affects about 1 in every 100 to 133 people, or 1% of the population. That's equal to about 350,000 Canadians! Worse, it's estimated that 83% of those with celiac disease are undiagnosed; they have no idea that they have gluten intolerance and their health is suffering.
Another 5% of the population, or 1.75 million Canadians have non-celiac gluten sensitivity (NCGS) which results in various gastrointestinal and digestive problems not unlike symptoms of IBS [gas, bloating, diarrhea], or they may not have any digestive related issues at all. NCGS can present with symptoms such as headaches, foggy mind, joint pain, skin rashes and more.

Other food sensitivity tests attempt to measure immune markers such as IgA and IgG antibodies, however not everyone with gluten intolerance will produce antibodies. Worse, by the time IgA and/or IgG antibodies appear in the blood, damage to the intestinal tract has occurred.
NGx Gluten™ gets to the heart of the matter; your DNA, to assess your risk for gluten intolerance.
Research has shown that the human leukocyte antigen (HLA) gene is the most important genetic predictor of gluten intolerance and the Nutrigenomix™ Genetic Test for Gluten Intolerance examines six variations of the HLA gene [DQ2 & DQ8 markers] to determine whether or not you have a low, medium or high risk of gluten intolerance.
What's Included:
Initial assessment & collection: 15 min appointment to collect a saliva sample, general health & medical history and answer any questions you may have
Personalized Nutrition Report: comprehensive e-booklet (print available for $20 + HST) of your unique genetic profile analysis, sent directly to our clinic – Click to see a Sample Report of the Health & Sport Test
Results: our team will quickly review and explain your genetic profile for your NGx test (5-10 min)
Consultation: basic dietary recommendations made by our team that best fit your genetic profile (25-30 min)
Extras: nutrition information and resource package may be provided to help guide you on the right track
We Offer Virtual Nutrigenomix Consultations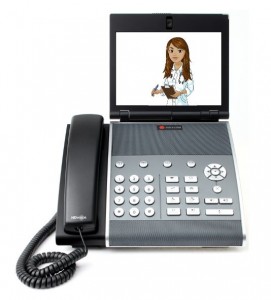 If you are either too busy, too far, or just not comfortable meeting with our dietitian in person, you are in luck. We can offer to do the Nutrigenomix Test remotely.
We can send you a saliva collection kit (with FREE shipping) and once we have the results, we will provide a virtual consultation by phone or video conferencing.
All documents, including your Personalized Nutrition Report (electronic only unless print version has been ordered), receipts, insurance invoice, and nutrition information & resources package will be sent electronically! See below to get started.
How Long It Takes
The entire process should take between 2-4 weeks unless specified otherwise.
How Much It Costs
Your health investment:
New Clients:
NGx Health Test: $399 (including tax)
NGx Sport Test: $399 (including tax)
– Limited Time Only – Contact Us to Learn How You Can Save 10%
– US Clients will be charged in USD for the same amount. To Purchase your test, please Click HERE
NGx Existing Clients:
Existing clients who have already done the NGx 7 Gene or Gluten Test are eligible for an upgrade test at a significantly lower cost. Contact Us for details.
We offer further savings when bundling the Nutrigenomix Tests with some of our other services. Please Contact Us for more information.
Volume based discounts are available for Group or Corporate Wellness Programs. Please Inquire.
Note: You may be able to get tested for FREE. Some group benefit plans and insurance providers cover a portion or all of the services provided by a Registered Dietitian. Please confirm with your plan provider your maximum yearly and visit allowance. MyDiet Clinic will provide every client with an insurance invoice which may be used to submit a claim to your provider, if eligible. Please see our FAQ to learn more.
How To Get Started
Book An Appointment Or Call Us: (647) 955-0461
For Faster Service, Purchase Your Nutrigenomix Test Kit & Virtual Consultation Online
CANADIAN Clients ONLY – UNITED STATES Clients, Click HERE
-Test Results Will Be Ready Within 2-4 Weeks
Still Have More Questions?